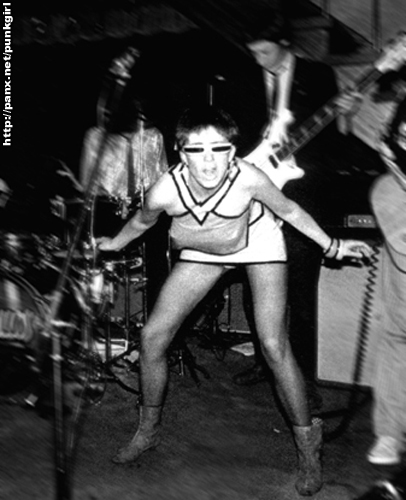 Faye Fife from The Rezillos
Thank God for No Thanks!
If you entered college in the late 1970s, there was no way to escape the impact of punk, but the means of acquiring it were somewhat restricted. Rolling Stone, my guide to life back then, would hail this or that new band, and if they proved big enough to get on the radio and be stocked at the local Wal-Mart --The Clash, the Pretenders, B-52s -- I snapped them up. Unfortunately, there was no real indie music scene back then, no Internet, and you had to live in a big city to find a cool record shop, which meant I never got around to hearing X-Ray Specs, the Dead Boys, Richard Hell and the Voidoids, X, and God knows how many others.
Actually, I do know how many others, or at least a few, because Santa brought me Rhino's gorgeous 100-cut box set:
No Thanks! The `70s Punk Rebellion
-- a nostalgic blast, a revelation, an education and, let it be said, an inspiration. Here are bands that had a good run, a great run, and no run at all, but left behind some wonderful little scrap of beauty
The set has one glaring omission: no Sex Pistols, as the surviving members apparently said fock your focking greatest
shits
album, bugger, or at any rate, no. Well, fine by me; as the enclosed booklet points out, you should already own
Never Mind the Bollocks
by now anyway. While most other well-known punk/New Wave acts -- Elvis Costello, Television, Patti Smith, Talking Heads, Blondie, the Clash, the Modern Lovers, the Ramones, Joy Division, and Iggy -- are tastefully represented with less than obvious choices, the real joy, for me anyway, comes in the many black-hole classics I've always read Greil Marcus or someone raving about, but never actually heard: X-Ray Specs' "Oh! Bondage Up Yours" (Yes, it's my first time; I can almost hear Barry the arrogant record store clerk from
High Fidelity
laughing at my cluelessness), the Buzzcocks' "Ever Fallen in Love (With Someone You Shouldn't Have?)" which I always thought was a Fine Young Cannibals original (Barry points at me, laughs, makes fun of my clothes), the Dead Kennedys' "California Uber Alles" (Barry eyes me suspiciously) and Richard Hell's "Blank Generation" (Barry violently shoves me out of the store, threatening bodily harm).
There are many more I've never heard of at all, ranging from the wildly violent to the absurd to the beautifully silly. I am particularly enamored of the ones that show that for all of its surliness, punk had a lively and lovely sense of humor: "(My Baby Does) Good Sculptures" by the Rezillos, "You Drive Me Ape (You Big Gorilla)" by the Dickies, the Cramps' marvelous "Human Fly," Johnathan Richman's dweeb classic, "Pablo Picasso," and the Soft Boys' indescribable "(I Want To Be An) Anglepoise Lamp."
As they showed with their great
Nuggets
box sets and their recent and immaculate Television reissues, no one has a better time than the Rhino guys at restoring rock history. This set is a jolt of electricity that makes you want to run into the streets and have a revolution for fun -- the great punk party your mom wouldn't let you attend.